Rights of way and accessing land.
In Denmark, there is a more restricted freedom to roam on privately held land compared to Norway and Sweden. All dunes and beaches and all publicly owned forests are open to roaming. Uncultivated, unfenced areas are open to daytime roaming irrespective of ownership status. Privately owned forest have access by roads and tracks only.
Access to privately owned land.
The largest part of Denmark is agricultural land with fields, grazing areas, field paths etc., which are mostly privately owned. Everywhere you have to respect the private property rights (e.g. agricultural production) and respect the signs that you encounter on your way.
You are allowed to walk and cycle on roads and paths in the open countryside including private forests. However, the owner is allowed to prohibit traffic if it is a major nuisance to privacy, to production or to protection of nature and wildlife.
On private, uncultivated areas (like heaths) that are not fenced, you are allowed to walk on foot from noon, 6am to sunset, and only stay (e.g. a rest breake) at a distance of at least 150 meters from buildings.
There are also public access to fenced, non-cultivated areas, if there is no grazing livestock, if you can enter through doors, stents and the like and if there is no signs that prohibit access.
Access to publicly owned land.
There is in generel public access to publicly owned land like state forests or municipal owned nature areas . If you are on foot, you are welcome to go offroad and walk outside roads and paths. If you are on a bike you have to stay on roads and paths. There is public access around the clock.
Driving by car on paths and small roads in the forests is normally prohibited. Please respect the signs.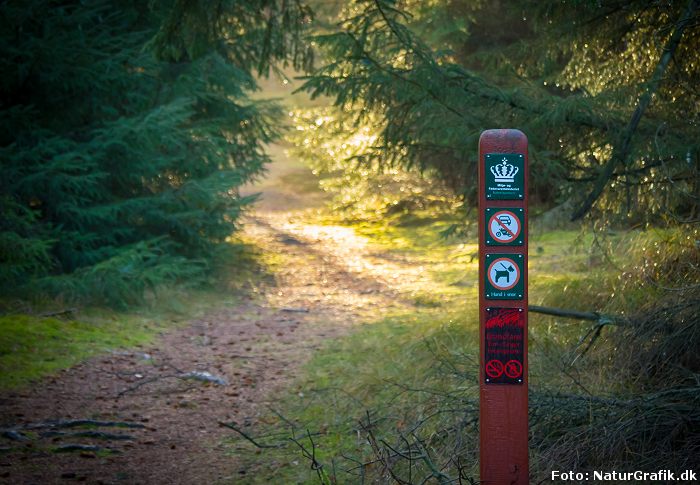 Source: The Danish Environmental Protection Agency.